Writing
Writing/Talk for Writing
At Grange Park Primary School, we want to help children to develop into thoughtful readers and
creative and enthusiastic writers. To help us achieve this goal, we have adopted an approach called 'Talk for Writing'. We believe that this is a powerful strategy for children of all ages and attainment, helping them to learn through multi-sensory and interactive teaching.
What exactly is Talk for Writing?
Talk for Writing is an innovative approach to teaching the art of writing, developed by the literacy
specialist Pie Corbett. It uses high quality modelled texts to introduce the children to different story and text types. They learn these texts off by heart, scrutinise their content and adapt. Through this process, the children learn the underlying structures of certain texts, their vocabulary increases and the children learn about key tools that are used by authors to create texts with a purpose – including creating suspense of developing a character etc.
The process in the classroom
There are three key areas to Talk for Writing that apply throughout school, regardless of the child's age. Each stage is vital: working together to develop the knowledge, confidence and independence in writing.
Imitation:
All units of work will start with a 'cold write'. The 'cold write' will give us baseline information about the children's confidence and ability with the text type about to be taught. Completing these before the unit begins, allows each teacher to adapt the planning and resources to fit the children's needs.
Following this, most units will have a 'Hook'. This is where we introduce the text type to the children in an interesting and imaginative way - 'hooking' the children in and engaging them straight away. A Hook might range from the children making their own fairy dust, to being invaded by Romans soldiers, to discovering parts of the Iron Man. During this first phase of imitation, the children are introduced to the key text using actions and text maps (pictures). While it can look like 'just pictures', this process is vital to all ages and helps the children to internalise the text type and embed sentence patterns, new vocabulary and text structures. The children look closely at the language used and the effect this has on the reader. We call this process 'reading as a writer'.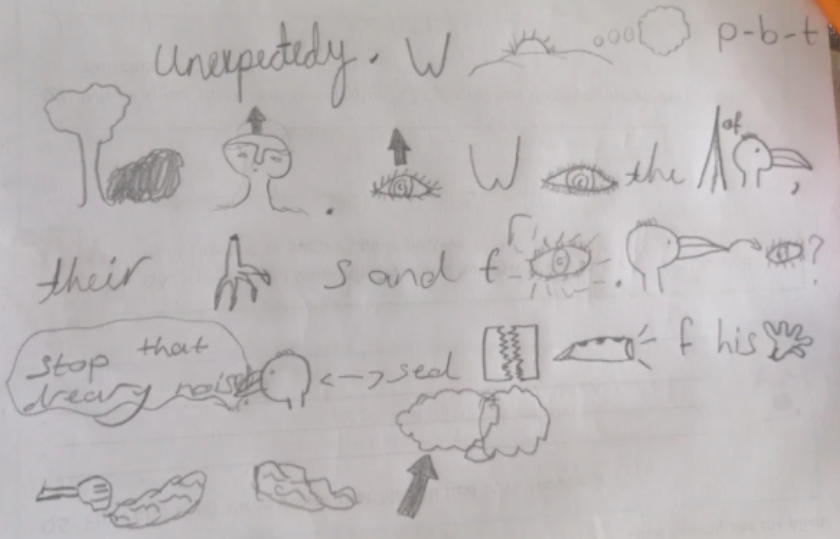 Throughout this process, the children will take part in reading activities, role play and drama,
comprehension tasks, gaining a deeper understanding of vocabulary and the impact it can have, look at the structure of a text type and develop their understanding of grammar terms.
Innovation:
The next stage in the process is innovation. This is where the children adapt the story/text that they have already looked at, using their own ideas. They might change characters, settings, events, points of view, all whilst sticking closely to the underlying structure previously identified. During this process, the children will refer to 'toolkits' which are a range of writing tools that we may use to create a specific affect or text. These could be 'similes' for description, 'imperative verbs' for instruction, or 'empty words' to create tension. Each day, the children will complete a shared writing session where they are shown how to shape and construct a piece of writing as a class. During each session, the children then try to replicate this process independently. This is a very intensive stage as each part is marked meticulously and the children complete editing work based on the feedback given by teachers.
Independent Application/Hot write:
The final stage in this process is 'Independent Application'. This is where the children are given the opportunity to plan and write their own stories/texts demonstrating all that they have learnt over the unit. For the children, we call this final process the 'Hot Write' and we use this to assess the children's progress within the unit of work and set future targets.
Things you can do at home:
Parents often ask what the can do to support their child's learning at home, and this can sometimes appear difficult when the school does an approach like Talk for Writing. However, there are lots of things that you can do at home that will support your child in school.
Encourage a love of books - you read to your child, they read to you. It doesn't matter which way.
Turn the stories you already know into something slightly different, or tell stories about events you and your child have experienced.
Your child's teacher should send home a copy of the text map. Ask your child to teach you and have fun with it.
HAVE FUN. Storytelling and reading should be fun activities and not a battle or a chore.
You might also want to look at Pie Corbett's website for more info: Click here