Special Educational Needs and Disabilities (SEND)
Welcome to the SEND page.
At Grange Park, we want all children to feel included and to enjoy their time at school with us in order to thrive and pave the way to a successful adulthood.
We are an inclusive school and are fully committed to meeting the needs of those children with SEND as is reasonably practicable and compatible with the provision of the efficient education of other pupils. In meeting these responsibilities, we have due regard to the SEN Code of Practice 2014 and the Disability Discrimination Act 2001.
Like all schools, Grange Park follows the assess, plan, do, review cycle to ensure a clear pathway is upstanding to identify and support any learning needs.
Our SEND Referral Pathway can be found at the bottom of this page for your information along with information about the assess, plan, do, review cycle in the SEND Information Report, should you wish to see this in greater detail.
YOU WILL FIND OUR SEND INFORMATION REPORT AT THE BOTTOM OF THIS PAGE FOR ACADEMIC YEAR 2022 - 23.
LINKS TO FURTHER INFORMATION AND AGENCIES:
Further down on this page, you will find some useful links to support children with SEND or mental health needs.
ENFIELD'S LOCAL OFFER:
Also, it is important that parents and carers are fully aware of Enfield's Local Offer to support children with SEND. Below is the link to the offer which also provides a wealth of support for parents, please click on the link below:
Enfield's Local Offer for Children with SEND
Very best wishes,
Karen Ayres
Assistant Head for Inclusion & SENCo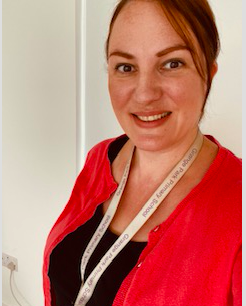 Please see below some useful links
www.talkingpoint.org.uk – Speech and Language Services – Talking Point provides a guide to speech and language services and useful links to other associated websites.
www.youngminds.org.uk – Young Minds – a national charity committed to improving the mental health of all children, advice about depression, eating disorders, and other mental health issues affecting children.
www.mentalhealth.org.uk – Mental Health Foundation has on-line information about anxiety, depression, ADHD etc
www.autism.org.uk – The National Autistic Society website, the main UK charity for supporting people with ASD and their families (contains lots of useful advice and resources)
www.oneplaceforspecialneeds.com – A really useful set of social stories to share with children, covering topics ranging from coping with a new baby in the family to getting a haircut to making friends. The National Autistic Society website also provides guidance on writing your own personalised social stories
British Dyslexia Association – a useful website with information about dyslexia, assessment and identification, exam concessions etc.
Dyspraxia Foundation – offers information and supports individuals and families affected by developmental dyspraxia through books, suggestions, a teen newsletter, and an adult support group.
https://www.ourvoiceenfield.org.uk/ – Our Voice, a parent–led organisation working with parents and carers, as well as the statutory and voluntary sectors, to improve services for children and young people with disabilities or special educational needs in Enfield.